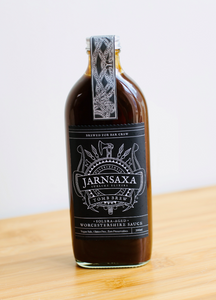 This interesting condiment was initially created so we could keep the Doom Brew vegan and gluten-free. Preferring not to add any pre-processed ingredients to our products, making our own version of Worcestershire sauce was the best move forward. After letting this sauce rest for a number of months we came to the realisation that the Tomb Brew was a very special creation in its own right. So we decided to bottle it and give it its own life.
The solera system means we have individual barrels created at different intervals which are rested separately. All vintages are eventually added to the "bastard batch" which is where we bottle from. This guarantees a consistency of flavour and also increases the average age of the sauce. It seems the longer we let it rest the better it gets!
Using a base of apple cider vinegar to guarantee its freedom from gluten, it's flavour comes from a careful mix of spices, tamarind pulp and blackstrap molasses. Dried sea-kelp is added to give it the ocean tanginess which would normally come from fish products. Our mix of ingredients means it stays vegan safe while retaining its zest and punchy flavours. Tomb Brew has a kick!