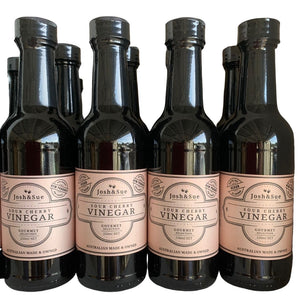 Introducing our latest Vinegar.
Sour Cherry Vinegar, is a beautiful finishing sauce, as with all our products it has a true to label flavour profile, of delicious sour cherry, masterfully blended with a balsamic vinegar.
Serving suggestions: Serve with fruit, cheese, meats, salads and desserts. Drizzle on salads or use as a finishing glaze to duck, steak or poultry. A delicious fruity vinegar that goes well with any salad, add to mineral water for a zingy drink!
Australian Made and owned, Naturally Gluten Free and Vegan.