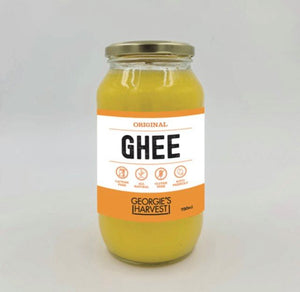 Georgie's Harvest Ghee
Melbourne made Ghee by Georgie's Harvest. 
This Ghee or 'oil of butter,' has no preservatives or additives and is beautiful for making roast potatoes, curries or even in your coffee. 
What is Ghee?
Ghee is a type of superfood that is made by slow cooking and rendering butter to remove the milk solids and lactose, leaving behind pure dairy oil. To be used as a substitute for butter or other cooking oils for healthier frying and roasting. 
All Natural
Gluten Free
Keto Friendly