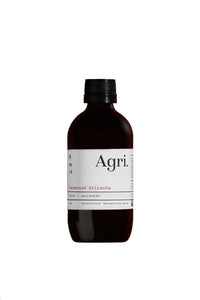 Fermented Red Sriracha (200ml) 
Our sriracha sauce starts with a selection of birds-eye and long red cayenne chillies, picked to order from a farm in Bundaberg, Queensland. We then add some sea salt before the seven-day ferment (our secret weapon) begins.

We remove the skin and seeds (and save them - they are an integral ingredient of our fermented chili ketchup) and add apple cider vinegar, made by our mates at Hazeldean Forest Farm at the northern base of the gorgeous Strzelecki Ranges.

Finally, we add a little sugar (just a little) & Australian garlic to round it all out.

The resulting sauce is pretty special (if we do say so ourselves)... no 'capsicum spray' heat - just a deep, rich flavour and a spice that lingers.
All Agri Products are;
-  100% Australian Ingredients

-  Produced in Victoria by Hand

-  12 months shelf life – shelf stable

-  Supplied via Feel Good Foods