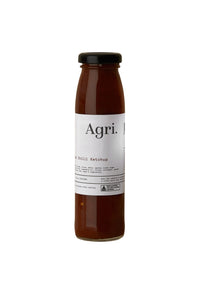 Fermented Red Chilli Ketchup Sriracha (200ml) 
Our ketchup uses Aussie tomatoes, and apples to thicken the sauce (no nasty xanthan gum here). We add fermented chilli pulp (lovingly preserved from our sriracha-making process) to give it some kick, and add a little sugar (not too much - most commercial tomato sauces use more than 20% added sugar - ours uses less than half of that) to balance the flavour.

We reckon it's the sauce you won't want to eat snags without.
All Agri Products are;
100% Australian Ingredients

Produced in Victoria by Hand

12 months shelf life – shelf stable

Supplied via Feel Good Foods