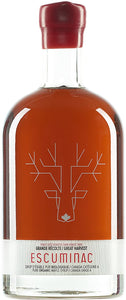 Escuminac Great Harvest is classified as a Canada Grade A Dark Robust Taste. Harvested in the middle of the season, it is textured, round, rich and distinct. It has a buttery mouthfeel that coats the palate beautifully.

Pure and unblended maple syrup. It comes from a single forest and has never been blended with any other maple syrups from other maple farms. Harvested and bottled at the maple farm in Escuminac, Quebec, Canada by the maker, Martin Malenfant.

Brilliantly designed modern glass gift bottle. A great gift idea for friends and family. Give the gift of maple syrup for birthdays, anniversaries, weddings and any Holiday

USDA Organic, 100% traceable from forest to plate. Gluten-free, vegan. NO additives, NO preservatives, NO artificial flavours.

Escuminac Great Harvest just received a 2 star Award at the 2019 Great Taste Award UK. Try it on waffle, fruit salad, oatmeal, plain yogurt etc. It replaces refined sugar.