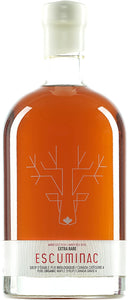 Our # 1 best seller! Extra Rare is classified as a Canada Grade A Amber Rich Taste. Harvested at the beginning or the season, it is delicate, subtle, velvety and silky. Our most delicate syrup, a delicious fine pure taste of maple. If you like a dark, thick and strong maple syrup, we would recommend our Late Harvest. Extra Rare is more delicate.

Pure and unblended maple syrup. It comes from a single forest and has never been blended with any other maple syrup from other maple farm. Harvested and bottled at the maple farm in Escuminac, Quebec, Canada by the maker, Martin Malenfant.

Brilliantly designed modern gift bottle. The lid was carefully waxed by hand by a proud Escuminac team.

A great gift idea for friends and family. Give the gift of pure gourmet maple syrup for birthdays, anniversaries, weddings and any holiday.

USDA Organic, 100% traceable from forest to plate. Gluten free, vegan. NO additives, NO preservatives, NO artificial flavours. Great as a pancake syrup, on desserts, ice cream, plain yogourt, fruit salad and in cocktails..