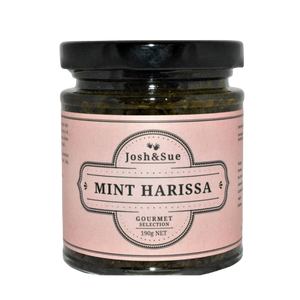 Our Green Harissa is a blend of Mint and Coriander, our Mint Harissa has a fresh lift of the mint with ground and fresh coriander really works to bring a sensational taste to all recipes. Great with lamb chops, BBQ butterflied leg of lamb, chicken and vegetarian dishes and as a flavour base for any casseroles or stews where a fresh zing is needed. Especially good cooked with a vegetable bake and in guacamole.
Add to yogurt and use in wraps or as a dip. Add a dash of Mint Harissa to your gravy as we have done here on this Lamb roast. It was delicious.
All natural ingredients, no artificial flavours, colours or fillers. ​Gluten Free and Vegan.