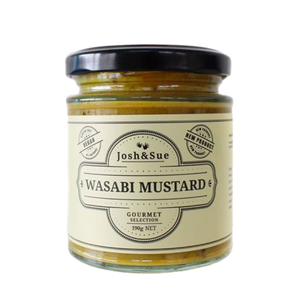 Wasabi Mustard dress salads to impress, marinate with it, add to sauces or glazes to add a zing, serve with your meats or seafood.
Add to mashed potatoes, cheese sauce, or cheese on toast. YUM!
Gluten free and Vegan.
Hand Crafted in Victoria, it is sure to delight a Mustard lover.
All natural ingredients, no artificial flavours, colours or fillers.
Made in Daylesford to Josh&Sue's family recipes.