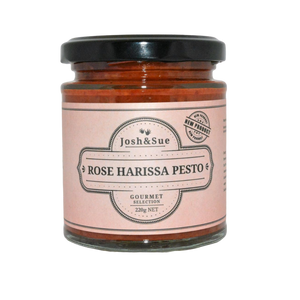 Our Rose Harissa Pesto is NUT FREE, it is a tomato based pesto blended with capsicum and our award winning Rose Harissa as the start ingredient, meaning we have a vegan, dairy free, nut free pesto, how good is that, an Australian Nut Free Pesto. Why not add a jar to your next order.
Our Rose Harissa Pesto is hand crafted in Daylesford, Victoria, it is available throughout Australia, check out our stockists tab for your closest stockist or grab a jar online.
Simply stir a couple of teaspoons of our Rose Harissa Pesto through a bowl of fresh pasta, it is a quick and easy mid week dinner, why not add some of your favourite vegetables of even a few prawns. Yum!
Crafted in Daylesford, Gluten free, Vegan, Nut free.