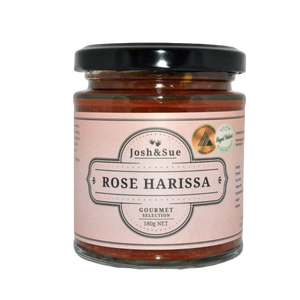 SILVER MEDAL 2018 ROYAL HOBART FINE FOOD AWARDS
BRONZE MEDAL 2018 AUSTRALIAN FOOD AWARDS
​So easy to use, marinate chicken, fish or steak, even coat a cauliflower or potatoes and bake. Rose Harissa is a key ingredient in North African and Middle Eastern cooking.
Versatile and easy to use as a marinade, in dressings, dips & sauces or as an ingredient in cooking. Stir into sour cream to serve with potato wedges. Add to Cous Cous or any tomato based dish to give it a little lift. Rose Harissa is amazing on roast potatoes, carrots, chicken, fish or pasta. Add to a pizza base or use anytime you would normally use a pesto.
Contains Tomato, Chilli and Rose water. Dollop a spoonful on to your favourite breakfast.
All natural ingredients, no artificial flavours, colours or fillers. ​Gluten Free and Vegan.