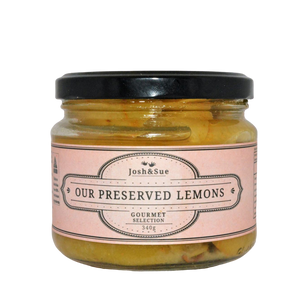 Preserved lemons add a salty, distinctive lemon flavour to many Moroccan dishes. This is a condiment that is common in Middle Eastern and North African cuisine. Our Preserved Lemons have been very popular thanks to the wonderful recipes by Yotam Ottolenghi, Jamie Oliver and Sabrina Ghayour to name a few.
Rinse before use, finely chop and add to cous, salsas, tagines, sauces or to your favourite chicken or fish dish.
Gluten Free, Vegan and all natural ingredients, no artificial flavours, colours or fillers.
Made in Daylesford to Josh&Sue's family recipes.