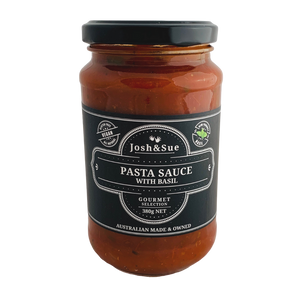 380gs of deliciousness, a rich pasta sauce with  vegetables & Basil.
Ingredients: Australian Tomatoes, Onions, Carrots, Celery, Olive oil, Garlic, Salt, Sugar, Basil, Citric Acid [330], Pepper, Parsley.
Serving Suggestions:  Stir through  good quality pasta for a great meal in 15 minutes, add to hearty soups, or spoon over pizza bases, add to a broth for cooking mussels. Use as a base for  classic Bolognese or seafood pasta.  
GLUTEN FREE & VEGAN
100% AUSTRALIAN TOMATOES
ALL NATURAL INGREDIENTS
SMALL BATCH
SMALL AUSTRALIAN FAMILY BUSINESS
Hand crafted in Daylesford with more than 90% Australian ingredients, no fillers or preservatives.
Vegan, Gluten Free & our all Natural ingredients create a rich flavour.