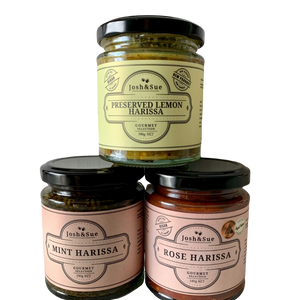 Grab one of each of our 3 Harissa's in one simple click.
 

Want to find out more about these delicious ingredients... ?

Add flavour to all your meals with a teaspoon or 2 of our Harissa.

Mint Harissa will add flavour to your lamb and roast vegetables, Preserved Lemon Harissa has a real zing of preserved lemons and chilli, perfect for fish or chicken and our Rose Harissa Paste was the first one in Australia, thanks to Ottolenghi and Jamie Oliver sales have increased dramatically as consumers race to recreate these amazing recipes. Rose Harissa is incredible on Chicken, beef and lamb, sweet potatoes, carrots, cauliflower even add to your egg dishes or pasta and rice, it is so versatile and will had a delicious depth of flavour.