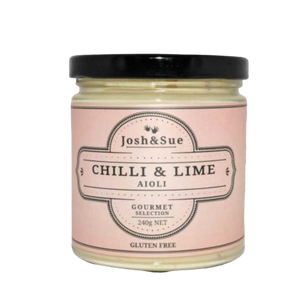 Chilli & Lime Aioli can be used as a creamy dip for vegetables, great on sliders, gourmet sandwiches or drizzle on your chips. A little luxury for Fish and Chips. Perfect with fish, or any seafood. Amazing on corn.
Dollop Chilli & Lime Aioli onto Paella, it works so well together.
All natural ingredients, no artificial flavours, colours or fillers, Gluten Free!
Made in Daylesford to Josh&Sue's family recipes.