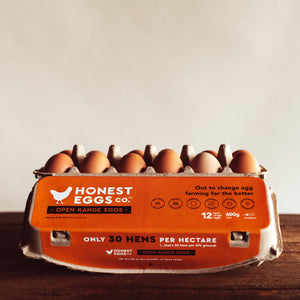 Co-founders Paul and Jacqui Righetti are 4th generation custodians of their farm in Yandoit, near Daylesford, in Victoria. 
Interestingly Honest Eggs Co. (originally called Real Eggs) was actually born out of a school project by their daughter. With strong beliefs in holistic farming methods passed down through generations it was the spark that led them to start egg farming in order to help regenerate the land, build additional income for the local community and improve animal welfare standards.  
Shortly after formation Paul and Jacqui were joined by co-founders Ian and Kim Garsed - another farming family with the same values from just down the road. And five years on there are now four 3rd and 4th generation farming families in the collective with the Kissel family joining in 2018 and the Menzels in 2019. 
At Honest Eggs Co. we are on a mission to change egg farming for the better. It permeates all we do. 


The best compliment I have had about Honest eggs came from a family member who has chickens at home and they were not laying so I gave him a dozen and he was surprised. He said "they are so good they taste like my eggs." My reply was " I told you so.